Do you like sausages and you want to find
best meat grinder
for your kitchen? You can
go here
for a couple of choices. Do you like to travel to Germany for your sausages? Let me tell you that there is much more food waiting for you in Germany rather than just sausages.
1. Sausages
There is good chance that you will see more than 1 type of "wurst" ("sausage" in German) at any grill food shop across the country. The easiest choice will be "Bratwurst" which is usually made out of pork, beef or veal. This dish has been around since 14th century in Nuremberg; however most Germans will recommend you to try "Rostbratwurst" (shortly "Roster") from Thuringian state. This type of sausage is geographically protected in all over the world, and its special spice created an unfamiliar yet delicious flavor to the Roster. Bratwurst in general usually comes with a Brotchen (a small white bread) and some mustard.
Another famous type of sausage is Currywurst – pork sausage served with curry tomato sauce. This dish can be found anywhere across Germany, but most well-known in Hamburg, Berlin and Ruhrgebiet in Western Germany. For a portion of no more than 4 euro, you will have a bratwurst, tomato curry sauce with a bit more curry powder, and a brotchen or a small portion of fries.
2. German Bretzel
Stepping in any bakery in Germany and for sure you will find some authentic bretzel. You can eat it just without anything else, just like a piece of bread snack. However in some restaurants, brezel is served with a variety of sauces, or cheese mixture. A good bretzel should be adequately seasoned with big chunks of sea salt, and it should be a bit crunchy on the outside (like a sausage) but soft and tender on the inside. Though Bretzel is a true representation for German bread, we encourage you to try as many types of bread in Germany as possible, because each of them has its own charm.
3. Wurstsalat – Sausage/Ham Salad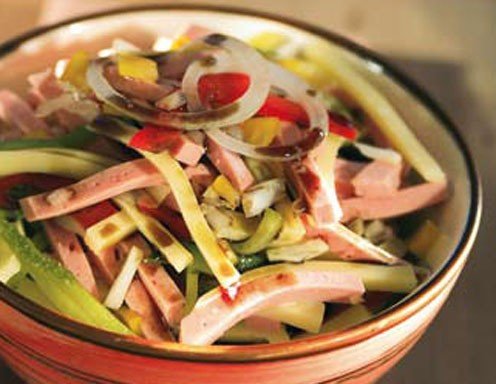 You want a healthy meal on a loaf of bread? Get into closest supermarket in Germany and look for "wurstsalat" or "fleischsalat". This version of German salad is quite similar to Russian Olivier salad; however the German one has way less vegetables in it than the Russian one. And the ham/sausage is more finely chopped.
4. Kartoffelkloesse – Potato Dumpling
If you order a saucy meat dish in Germany, it is likely that you will be served with some Kartoffelkloesse. These lovely yellow balls are made purely out of potato, and though it may look simple,
the way of making
it traditionally is not. A well-done Kartoffelkloesse should be fluffy, not soaked in water, and has some bread crumbs inside. Slide it into halves and pour nice gravy sauce onto it, and you will never forget this first bite of authentic German dish.
5. Schweinshaxe – Roasted Pork Knuckle
This dish was formerly known as poor man's food as the original recipe used inexpensive cuts of meat. It would require a long time of marination, usually for days or even weeks. The marinated knuckle is then roasted under low temperature for 2-3 hours, until when the meat is tender and the pork skin is crispy. The side dishes for Schweinshaxe are Kartoffelkloesse and Sauerkraut (cooked pickled cabbage). Nowadays you can find them anywhere, from fine dining restaurants to humble food stalls in supermarkets.
6. Spätzle – Soft Egg Noodles
In spite of the non-noodle appearance, these noodles are favorite food of any Germans, Austrians, and Hungarians. They are usually served with meat dishes with nice gravy sauce, or even in some soup. The initial impression of the 1st bite can be that they taste similar to Italian gnocchi. However because of smaller shape and not having potato in the ingredients, these Spätzle noodles are lighter and more pleasured to enjoy.
7. Black Forest Cake
Anyone who loves chocolate will fall in love with this cake. Though it is popular worldwide, not many people know that this cake originated from Germany. It is named after the special liquor of its original region: Schwarzwälder Kirschwasser. After German law, Black Forest cake must contain this kirschwasser to be labelled as Black Forest cake. This cake is made up from layers of chocolate sponge cake, whipped cream and cherries. Besides this type of cake, German pastries are extremely underrated, so you should try at least
Quarkbällchen (Quark cake)
to have a true impression of German sweets.
It is tempting to try all of these dishes in one day, but be cautious because all of them are pretty heavy. In case of need, you can always have some Sauerkraut to digest your food. Enjoy!